Bonita Continuous Delivery Add-on
| | |
| --- | --- |
| | Welcome to Bonita Continuous Delivery Add-on documentation website! |
The Bonita Continuous Delivery (BCD) add-on provides a solution to use Continuous Delivery practice for your Bonita Living Application development and deployment.
It is composed of two parts:
First, a framework for Continuous Integration of Living Applications.
BCD lets you build a Living Application repository and deploy the generated artifacts from the command line. Besides, a pre-configured standalone Jenkins CI environment is also provided with BCD.

Second, a solution for Provisioning of Bonita stacks on cloud or on-premises hosts. This part is deprecated in version 3.4.4
BCD lets you deploy Bonita on existing servers using Docker containers. Furthermore, when used with the Amazon Web Services (AWS) cloud platform, BCD enables you to create and delete AWS EC2 instances automatically.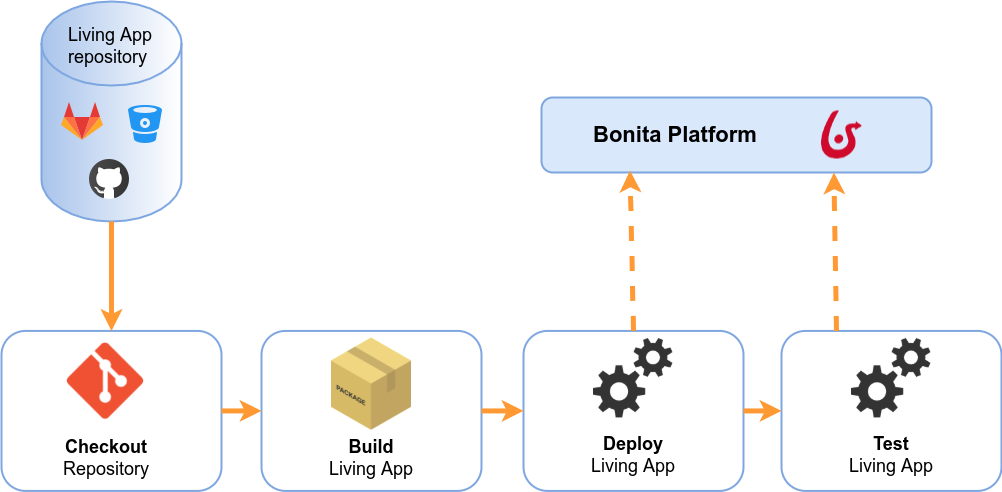 Basic concepts
This add-on provides a bcd command-line interface (BCD CLI) which enables to:
Build and deploy Bonita Living Applications

Deploy a full Bonita stack (deprecated) - A Bonita stack is formed by a database service, Bonita Docker containers running Tomcat application servers and a HAProxy load balancer when deploying a multi-node Bonita cluster.
The BCD CLI is provided within a ready-to-use environment called BCD Controller. This environment is packaged as a Docker image.
Then a controller container will have to be started interactively on your control host from which bcd commands will be issued.